Strengthen the concept of safe development -- Radiant safety training
时间:2017-06-29 人气:859
To seriously implement the company's annual production safety meeting spirit, improve the overall quality of employees, to strengthen the staff's safety consciousness, ensure the safety of the full-year target and production task, Suzhou Radiant started on June 3, 2017 for different divisions of the company all staff for production safety knowledge training, vigorously promote "safety first, prevention first, comprehensive management" of the security policy. All staff study the relevant knowledge seriously by the excellent of training instructors,and the safety concept, safety consciousness, risk prevention ability and professional liability has been further strengthened.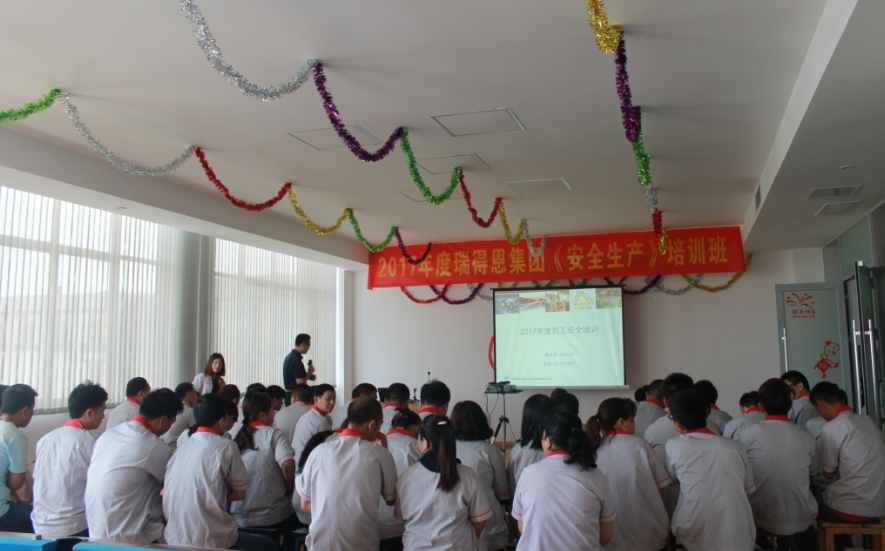 1. For the production enterprises like us, the training course focuses on the relevant contents of safe production, and shares the following: (1) Establishing and improving the safety production management organization; (2) Establish and improve safety production rules and regulations; (3) Improve safety production conditions; (4) Safety production publicity education; (5) To carry out safety production inspection; (6) Strengthen production site safety production management; (7)To make accidents prevention and accident treatment work. The above contents will be an important aspect and main aspect of our company's future security work.
2. The unsafe behavior of the direct factors that cause the safety accident, the insecurity of the material, the indirect factor is the lack of management. People's unsafe behavior is illegal operation, ideological paralysis, technically weak, lack of knowledge, posts without training evaluation and so on, the unsafe state of a device, the defects of safety facilities on defects in the workplace, the protective equipment defects, the defects of equipment tools, such as the lack of management is mainly to people for poor regulation, failed to timely found that timely control, timely processing, etc.
3.Through the professional training lecturer theory explain and on-site guidance, the company from top to bottom again for safety production and safety production management attaches great importance to, according to the main content of the safety in production, establish and improve the safety production management institution, establish and improve the production safety rules and regulations, improve the production safety conditions, for production safety publicity and education, to carry out the safety check, strengthen production on-site safety production management, to do a good job of accident prevention and accident treatment. At the same time, through this training, strengthen the staff's cohesion and centripetal force, improve the staff's collective security awareness, and cultivate the staff's dedication to love the guard spirit.
Production safety training is a long-term and arduous task, relationship to the company stable and healthy development, a long way to go, we will constantly to further do a good job in the safety training work of the company to a new level.