Effective Use of Space

Solar carports provide for the effective use of existing parking space and not only convert sunshine into electric energy but also maximize usage of land resources.

Immediate Benefits

1,As a carport, it can protect vehicles from rain and the harsh effects of the sun.

2,As a Solar Power source, it can charge electric vehicles or provide direct power to offices, retail, residential or the grid.

3,Barrier-free design. Our designs allow vehicles to enter and exit the parking space freely without fear of nudging the support structure.

4,Advertising can be easily attached to the structure creating an additional source of revenue. For example, advertising banners in shopping centers.

Significant savings

1,A high percentage of factory pre-assembled components deliver significant installation savings.

2,Easy installation. We provide a simple and easy to understand installation guide. The main structural components of the system are marked with different colours so that you can see which parts fit together (pink to pink, blue to blue, etc).

3,Our carport systems allow for generous tolerances for vertical and horizontal adjustment.

4,A completely modular installation program.

Engineering Excellence

We provide static analysis including material optimization for each project. All stability tests are carried out according to current standards.

Long Lasting

All components are made of aluminum (anodized AL6005-T5) and stainless steel (SUS304) guaranteeing long serviceability, pleasing aesthetics, a high recyclable value and low waste disposal costs. Maintenance costs are minimized and you need not be concerned about rust breaking through that is common with galvanized steel structures.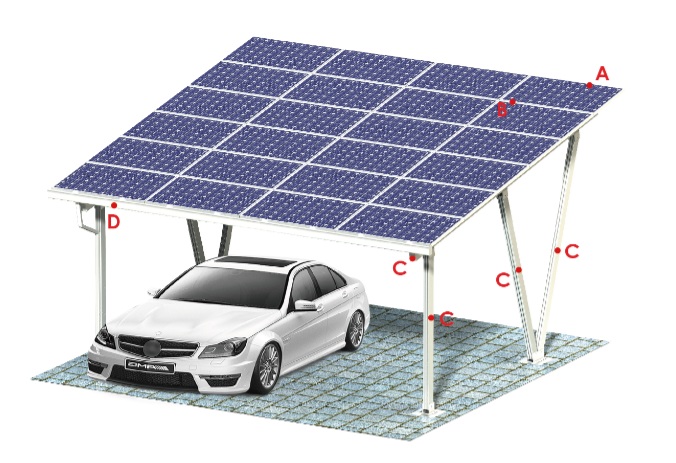 Solar Carport
Height direction adjustment ±12.5mm Base left-right direction adjustment ±25mm
Base front-back direction adjustment ±10mm